***2016 Halloween Havoc***
Event Schedule Halloween Havoc 2016
Today Sunday
October 9, 2016
Thank you
Neil and Bern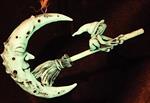 Please refresh the page at the times shown to
access the links to the releases. While sone pieces maybe shown prior to the release time, orders are accepted at the time of release listed.

If you have any questions, please email Bern67@optonline.net


Paid Attendees Your Perks apply to any Release through 6pm!